Wine Tasting – Wines of the Oltrepò and wider Lombardia region
22nd March 2022 @ 6:00 pm

-

9:30 pm

£64.50
Taste a range of wines from Oltrepò Pavese & the wider Lombardia region! Meet winemaker Marco Maggi who will be presenting his wines!
About this event
Oltrepò Pavese, a small region south of the River Po, relatively unknown in the UK, produces about one third of the entire wine of Lombardy!
Main Eventbrite photo: Representatives of GS Wines, Beacon Italy and Maggi Francesco at one of the hill-side vineyard sites of Maggi Francesco winery, Montescano, Oltrepò Pavese, Lombardy.

Photo above: Maggi Francesco Vineyard in Autumn
UPDATE
Wed 23.2.22 Our pleasure to announce our wine tasting adventure, tasting wines from Lombardy, with a special focus on the wines from Maggi Francesco winery in Oltrepò Pavese. We are delighted that winemaker Marco Maggi from that winery will be in London at our event!
Background Information
LOMBARDY is a diverse region, stretching down from mountainous Alps in the north, through several lakes, along the flat Po Valley and up to the hills of Oltrepò in the south. The wines are as diverse as the terrain. In the north, in Valtellina, on vertiginous terraces, they grow Nebbiolo grapes to make huge red wines to rival Barolo; by Lake Garda, there are fruity white wines such as Lugana; in the south we find Italy's equivalent to Champagne (Franciacorta) and the wines of Oltrepò.
Oltrepò Pavese Within Italy, this sub-region of Lombardy is famous for its sparkling wines – they make sparklers from Croatina, Barbera, Riesling, Pinot Nero. In February 2017, our friends at Beacon Italy introduced us to the wines (and foods) of Oltrepò Pavese (beyond the River Po) in the south of Lombardy.  We also came across wines with intriguing names such as Buttafuoco (Spitfire), which is a prized wine here made from Croatina, Barbera and Uva Rara grapes, and Sangue di Giuda (Blood of Judas) which is a sweet sparkling red wine. It turned out to be a bit of an Odyssey and you can join us in trying some of the wine treasures we found there!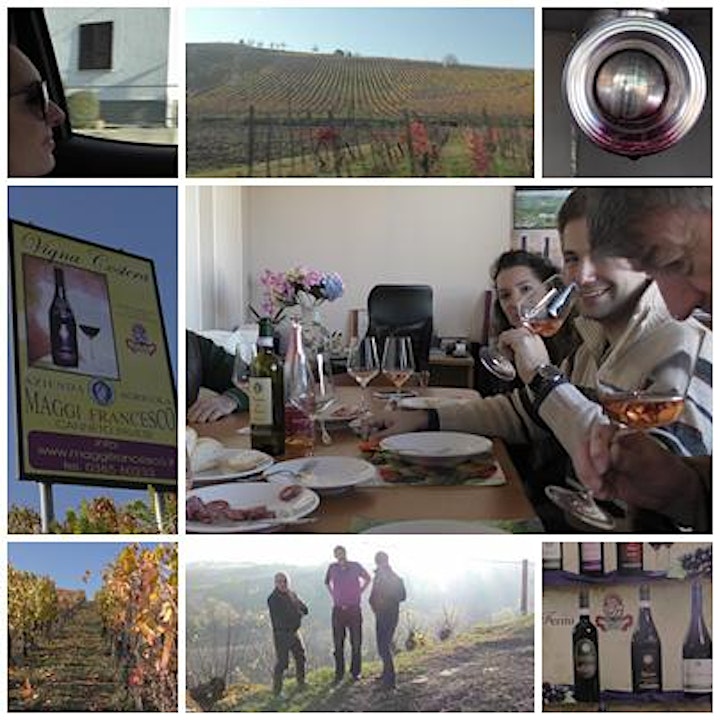 Visit to Maggi Francesco vineyard We revisited Oltrepò Pavese later that year (during Autumn), this time visiting key wineries, including Maggi Francesco and the venerable and historic Monsupello wineries. They make a range of delicious, quality wines, from local and international grape varieties, including some superb sparkling wines (of which Oltrepò is well known for within Lombardy), flavourful whites, rosatos and robust red. We are delighted to be able to focus on several fine wines from various Oltrepò wineries in our tasting event.
————————————–
WINES from Oltrepò Pavese for tasting session include:
Oltrepò Pavese – Maggi Francesco
Riesling DOC "Essenza"
Buttafuoco Riserva 2015 "Vigna Costera"
Other Wines from within Lombardy
a 'sforzato' style wine (a Nebbiolo from Valtellina)
[more to be added & to be confirmed]
——————————————
Timetable
18:00 Doors Open – Welcome Drink
18:50 Guided wine-tasting (of at least 7 wines) with Gordon Stuteley and Marco Maggi (winemaker)
20:05 (approx. time) Interval [possible FREE musical interlude – depending on availability of musicians]
20:25 (approx. time) Dinner [Optional, and includes Prize Draw!]
21:30 End
SICILY's Special Menu – 3-course Dinner